The Access Counter is a part of Dan-Ball which counts the amount of visitors to the site per week. The Access Counter is a small rectangle above the free games list visible on every page of Dan-Ball except the mobile pages.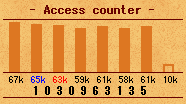 Overview
The Access Counter consists of eight bars which measure the amount of users per day (in Japanese time, or UTC+9), with a "hollow" bar representing the current day, and that the amount is pending. At the bottom of the bars are the rounded totals of visitors for that day written in the thousands. The numbers for Saturday and Sunday are blue and red, respectively. Below that is the number for the total amount of visitors that have ever been on Dan-Ball.
Usage
The Access Counter is mostly ignored by the Dan-Ball population, simply because the information is not widely important. The approximate information can also be obtained from other sources such as the amount of Powder Game uploads that day. Despite this, the Access Counter can be used to find the day and time with the most visitors, which can be used to find the ideal time to upload on Powder Game or Powder Game 2 and obtain the most votes.
Ad blocker interference detected!
Wikia is a free-to-use site that makes money from advertising. We have a modified experience for viewers using ad blockers

Wikia is not accessible if you've made further modifications. Remove the custom ad blocker rule(s) and the page will load as expected.