BG-Line is a background effect in Powder Game and Powder Game 2 that is similar to BG-air, except that BG-line has lines that show the direction of wind if it is present. It is the default BG upon starting the game, instead of the more likely BG-non. BG-line was the first background to be released in Powder Game in ver1.0, but it was not until ver 2.3 that is was called BG-line. Before that, it was simply the only background available.
In Powder Game 2, BG-line was implemented when the game was released in ver1.0 along with BG-non, BG-air, and BG-blur. It is still the default BG in Powder Game 2.
Uses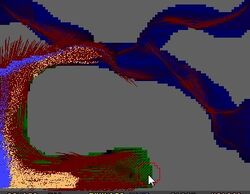 In uploads
In uploads, BG-line is used when it is needed to show the air pressure and the direction of the wind. BG-line is the most common BG (about half of all uploads use it). However, many people just use BG-line because it is the default background.
Glass viewing
If strong wind occurs, BG-line can be used to observe glass.
How BG-line works
BG-line is very similar to BG-air: high air pressure is shown green, and low air pressure is shown blue. The difference between it and BG-air is that wind is shown as a dark red line in BG-line, facing the direction the wind is blowing, and the more powerful the wind is, the longer the line is.
Pros and cons
Pros
Can show which area of the screen have high or low air pressure.
Can show what direction the wind is moving using red lines.
Cons
The red lines may look ugly or distracting to some people.
The red lines can hide the edges of the block if enough wind is present.
Ad blocker interference detected!
Wikia is a free-to-use site that makes money from advertising. We have a modified experience for viewers using ad blockers

Wikia is not accessible if you've made further modifications. Remove the custom ad blocker rule(s) and the page will load as expected.