Not to be confused with Create (Powder Game 2), the Powder Game 2 counterpart, or Clone (Powder Game element), an element in Powder Game.
Create is an object in Powder Game. Its main purpose is to clone objects.
Once create comes in contact with any object (except wheel, bubble and block), it will continue to clone that object until the limit for that object is reached. It will also clone the attributes for balls and players (in which it cannot be modified). It has the same function as clone, but while clone only produces elements, create only produces objects.
When it starts cloning any object, create will turn into different symbol according to what it is cloning; P when cloning player, F when cloning fighter, box shape when cloning box, and ball shape when cloning ball.
Create works differently when it is cloning a player. There can be only one create that clones the player at one time. If a player touches another create that isn't cloning anything yet, that create will start cloning player. The previous create that was cloning player will turn into a normal create. Creates can only create 2 players.
Usage
It can be used as checkpoints in a player course. It can also be used to create endless waves of fighters.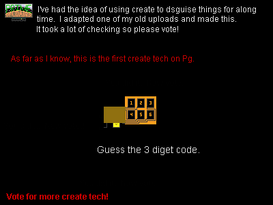 Create can even be used to conceal objects, as it allows elements to be placed behind it, while only erasing one dot in the upper left hand corner of the create, as first shown in StarTrekSpock's "First Create Tech!," using a simple electronic lock, hidden with create.
Trivia
Any element can move through create, without affecting it.
There was a glitch that create won't be black or white in BG-siluet. However, it was removed. (citation needed?)
Ad blocker interference detected!
Wikia is a free-to-use site that makes money from advertising. We have a modified experience for viewers using ad blockers

Wikia is not accessible if you've made further modifications. Remove the custom ad blocker rule(s) and the page will load as expected.