This map shows the areas where Fairies are present.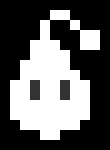 A Fairy is an enemy head in Stick Ranger. The head is shaped like a water droplet, and an antenna dangles from the top of the head, towards the right. The entire head is coloured except for the eyes, which are darker rectangles of that colour. There is no mouth. There are 12 enemies with the Fairy head in Stick Ranger. Along with the Cap head, the Fairy head is one of the few heads that are non-symmetrical. The combined population of all 12 enemies with the Fairy head is 252.
Types of Fairies
Fairy Snakes
Fairy Bats
Fairy Fish
Fairy Dragons
Fairy Eel
Ad blocker interference detected!
Wikia is a free-to-use site that makes money from advertising. We have a modified experience for viewers using ad blockers

Wikia is not accessible if you've made further modifications. Remove the custom ad blocker rule(s) and the page will load as expected.