Fall Damage (also often known as a long fall trap) is a type of trap often used in Powder Game and Powder Game 2  player courses to simulate damage from a long fall in real life, and prevent players from simply jumping into a deep pit, rather than carefully climbing down.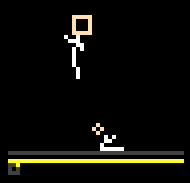 The concept is quite simple, using a line of a deadly element such as thunder-charged glass or torch, covered in a thin pen-s 0 layer of an element that will not kill the player or react with the deadly element, such as salt or metal. If the player were to fall from a large height, it would gain speed and be able to fall through the non-reactive element, and come in contact with the deadly element, killing the player. This causes the upload viewers to tread much more carefully through the upload, avoiding long falls that would ultimately kill the player.
Ad blocker interference detected!
Wikia is a free-to-use site that makes money from advertising. We have a modified experience for viewers using ad blockers

Wikia is not accessible if you've made further modifications. Remove the custom ad blocker rule(s) and the page will load as expected.