This map shows the areas where Gels are present.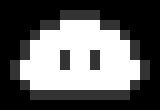 The Gel is an enemy head in Stick Ranger. Its first appearance was in Seaside 3. In contrast to other heads, it is mainly dark colored and doesn't have a bright outline. Only the eyes have a bright color. It is unusually small, and is quite common after the Castle. There are 26 enemies with the Gel head in Stick Ranger. The combined population of enemies with this head in Stick Ranger thus far is 833.
A new Gel head was introduced in Monster Box. It looks nearly the same as the original Gel head, but has inverted colors and possesses an outline.
Types of Gels
Gel Walkers
Gel Snakes
Gel Bats
Gel Dragons
Gel Trees
Gel Wheels
Gel Eels
Gel Spiders
Gel Zombies
Gel Bouncers
Gel Mushrooms
Trivia