Gunner is the sixth class in Stick Ranger. Gunners use guns to shoot enemies from far away, hence the name "gunner". Like the Priest, Whipper, and Angel, Gunners were added after the initial release, in ver3.4 BETA. Gunners are capable of dealing high damage, but at the cost of using gold every time the Gunner shoots. It is recommended to keep the starting gun since it is the only gun that does not require gold to use. It is also recommended to use compo items that increase MAG or to invest SP into MAG to reduce the shooting cost.
Stats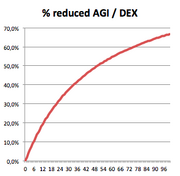 | Stat | effect per SP invested | LP |
| --- | --- | --- |
| LP | No effect | + 8 |
| STR | AT + 2% | + 2 |
| DEX | AGI is reduced down to 5-10 in relation to the following formula: | + 2 |
| MAG | - $1 to shooting cost (minimum cost $1) | + 2 |
Weapons
The Gunner uses the:
External links
Ad blocker interference detected!
Wikia is a free-to-use site that makes money from advertising. We have a modified experience for viewers using ad blockers

Wikia is not accessible if you've made further modifications. Remove the custom ad blocker rule(s) and the page will load as expected.