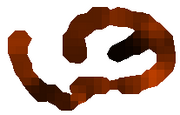 Magma (or Lava in Liquid Apptoy) is an element in Liquid Webtoy.
Properties
Magma is usually black, but occasionally gives an orange glow.
Magma is unaffected by Paint.
Magma allows cloud to phase through without reaction.
Trivia
Magma in Liquid Webtoy is the only element on the whole Dan-Ball site that contains more than one color at a time.
Ad blocker interference detected!
Wikia is a free-to-use site that makes money from advertising. We have a modified experience for viewers using ad blockers

Wikia is not accessible if you've made further modifications. Remove the custom ad blocker rule(s) and the page will load as expected.