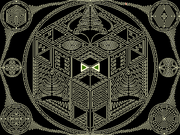 Mandala is a concentric diagram having spiritual and ritual significance in Buddhism and Hinduism. (wikipedia)
In Powder Game, mandala uploads are intricate "labyrinths" made from C-4. Some mandalas are also made of wood, where the wood is turned to torch in a similar way that C-4 disappears. It is also possible to make one of these out of Fuse but one has not yet been created. After lighting certain spot, the "labyrinth" starts disappearing, and because C-4 particles explode in sequence it makes an interesting effect.
Circular
The common and best known mandala is a 'circular' one. Though not necessarily a circle, the mandala generally follows a relatively symmetrical pattern giving it a style that is both long lasting, interesting, and required one to play several times if the user wishes to see the entirety of the mandala in action.
Secret Message
Though there is controversy over whether it is a mandala, the concept of making a secret message out of a single line of C4 weaving in intricate patterns making it nearly impossible to determine whether the message, several strands of C4 not connected to the mandala and therefore remaining after the mandala has long vanished, is made up of which strand, reads as whatever it has been made, such as words like "Vote", or deciphered without excessive study that could be easily avoided by igniting the C4.
Path
Although not a technical mandala, a far more common mandala is a path mandala. The C4 goes in a single path across the screen several times by following several less intricate patterns as it goes.These usually take very long and are avoided or are simple paths following straight lines, but some take much work to complete and are far more interesting than most.
Ad blocker interference detected!
Wikia is a free-to-use site that makes money from advertising. We have a modified experience for viewers using ad blockers

Wikia is not accessible if you've made further modifications. Remove the custom ad blocker rule(s) and the page will load as expected.