Micro Panda is a 3D action web game, and the 7th game on Dan-Ball, where the player must "illuminate" objects within the play field by controlling a large rectangular panda with the mouse. The front of the panda emits a small beam, which when placed into contact with one of these objects, will illuminate the object.
Micro Panda is the first 3D game on Dan-Ball. The camera view angle never actually changes, and only scrolls around the stage tracking the panda.
Like several other Dan-Ball games, Micro Panda includes a ranking system comparing the scores between the three available levels and the total scores.
Stages
In the game, there are three different stages to choose from. Each stage is reminiscent of public parks, with fountains, walkways, and even umbrella stands. It is advisable to search for the objects in the stages in a grid pattern to avoid missing any, having to backtrack to find them, and thus losing time.
Modes
Micro Panda has two different modes, namely "play" and "play freely".
Play
In Play mode, the player plays against a time limit of 99s. Players try to illuminate as many objects as possible within the time limit and their performance will be recorded in a ranking system.
Play Freely
In Play Freely mode, players may roam about the level as long as they want. This is how most players receive practice by understanding the distribution of objects.
Points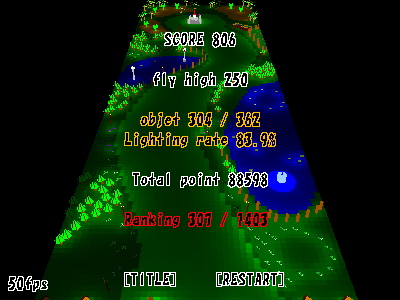 The points are calculated according to this formula:
Total points = (Score + Fly High) * Lighting rate
Score
Score is obtained by illuminating objects. Below is a list of objects and their corresponding score:
Plant: 1
Tree pole: 1
Small pyramid: 2
Flower: 2
Tree: 3
Palm: 3
Lamp Post: 3
Umbrellas: 4
Square block: 4
Water lily leaf: 5
Cactus: 5
Hexagonal block: 5
Panda clock: 6
Sign: 7
Fountain: 8
Castle: 9
Big pyramid: 9
Fly High
One may also get points by getting high in the air, as seen in the "fly high" indicator at the top-left of the screen. The higher up one goes, the more points are awarded.
Lighting Rate
The amount of objects illuminated is recorded as a percentage of total number of objects. The lighting rate is not shown in play mode until the game ends and is shown during gameplay in play freely mode.
History
| Version | Date | Thumbnail | New features and changes | Blog[1] |
| --- | --- | --- | --- | --- |
| 1.6 | 20/07/2018 | | Bug fix (Scrolling while playing the game on smartphones). | jp/en |
| 1.5 | 18/09/2015 | | HTML5 support. | jp/en |
| 1.4 | 29/07/2007 | | Play freely mode addition. | jp/en |
| 1.3 | 24/06/2007 | | Stage addition (Stage 3). | jp/en |
| 1.2 | 26/03/2007 | | Stage addition (Stage 2). | jp/en |
| 1.1 | 19/03/2007 | | Ranking function addition. Game algorithm adjustments. | jp/en |
| 1.0 | 11/03/2007 | | Game creation. | jp/en |
↑

The original blog is written in Japanese. A link to an automatic translation into English by Google is also available.