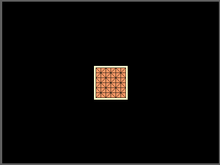 An NF9 Bomb is a type of bomb in Powder Game and Powder Game 2 constructed of nitro-charged fireworks, a fuse frame and a C-4 shell generally 3 dots wide. It is activated by igniting any part of the bomb with a lighter element, such as laser of fire. The fuse frame will then ignite and lights the fireworks creating a large amount of small explosions, while the C-4 creates wind to spread them.
An NF9 bomb is considered a type of cluster bomb, as the fireworks are scattered before it explodes, making the radius of the blast about four times larger than the original size of the bomb.
NF9 bombs as uploads generally get a low amount of votes being simple and unoriginal bombs, unless objects are added, such as a city or player house.
How to make an NF9 bomb
First, create a grid of fuse (pen-s 0 is recommended).
Next, create several diagonal lines spanning the width of the grid, this will make a criss-cross design. The size of the bomb can vary depending on preference.
Then, surround the frame with C-4.
After that, fill in the gaps between the fuse with nitro-charged fireworks.
Using the copy function on the bomb if you wish to deploy more units on the go.
Attach a fuse to your creation if you like, pause the game, save it if you wish, and apply a lighter element anywhere on the bomb.
Sit back and watch the carnage!
Ad blocker interference detected!
Wikia is a free-to-use site that makes money from advertising. We have a modified experience for viewers using ad blockers

Wikia is not accessible if you've made further modifications. Remove the custom ad blocker rule(s) and the page will load as expected.