The
Red Giant
is a rare
Powder Game
effect that outshines the whole background. It is used with the
BG-aura
effect. With the founder of the effect Final508, In real life, Red Giants are the point of where they run out fuel, then uses strong atoms to burn (Hydro/Heli Stars), After that, This huge star becomes a white dwarf.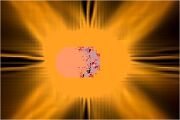 Instructions
Add a circular torch (Pen-Free).
Add a hole in the center.
Add gas to the hole (Make sure its filled).
Make another hole that combines clearing gas (quarters only!).
Add fireworks to the other hole.
Start the simulation.
Don't worry, It auto activates once the simulation is started.
Ad blocker interference detected!
Wikia is a free-to-use site that makes money from advertising. We have a modified experience for viewers using ad blockers

Wikia is not accessible if you've made further modifications. Remove the custom ad blocker rule(s) and the page will load as expected.