Previous:
Castle
Stage Navigation for ver19.0
Next:
Seaside 2
Mist Grove 1
Seaside 1
List of Stages:
Town
Opening Street
Grassland(1,2,3,4,5,6,7)
Castle(Gate)
Lake
Hill Country(1,2,3)
Forest(1,2,3,4,5,6)
Cavern(1,2,3,4,5,6,7,8)
Village
Seaside(1,2,3,4)
Submarine(1,2,3,4,Sh)
Mist Grove(1,2,3)
???
Desert(1,2,3,4,5,6,7,8)
Oasis
Pyramid
Beach(1,2,3,4)
Resort
Snowfield(1,2,3,4,5,6,7,8,9)
Mountain(1,2,T)
Frozen Lake
Ice Castle
Forget Tree
!!!
Hell(1,2,3,4,5,6,7,8,G,Ca)
Island
Inferno(1,2,3)
Blood Lake
Volcano
Seaside 1 is a stage in Stick Ranger. It is found following the Castle stage. It is the first stage of the Seaside series. The stage features parts over water and some puddles or smaller pools of water. Most of the enemies on this stage are either immobile or very slow. This stage marks the first appearance of the Roundhead head.
Trivia
This stage was implemented in ver4.0, and is the first stage to be released outside of BETA.

In addition to the Seaside 1 addition, the map was also changed by adding a stream coming out of the large body of water.

This is the first stage to introduce the Roundhead head, which all of the enemies found here have.
This is essentially a more difficult Opening Street - A green Walker, a cyan Walker, a red Walker, a blue enemy with a ranged attack, and a grey Boss Walker with a ranged attack. As if to drive this point home, the enemies in this stage are colored exactly the same as their weaker counterpart enemies in Opening Street.
Enemies
enemy count

Enemies
S1: 1
10
0
0
2
0
S1: 2
0
10
0
5
0
S1: 3
12
0
1
3
0
S1: 4
0
5
1
12
0
S1: 5
8
8
5
8
0
S1: Boss
0
0
0
0
1
Total
30
23
7
30
1

experience gain from enemy
player level
EXP
11-
1
1
1
1
1
12
20
1
1
1
1
13
40
20
1
20
1
14
60
40
40
40
1
15
80
60
80
60
200
16
100
80
120
80
400
17
120
100
160
100
600
18
140
120
200
120
800
19
160
140
240
140
1000
20
180
160
280
160
1200
21
200
180
320
180
1400
22
180
200
360
200
1600
23
160
180
400
180
1800
24
140
160
360
160
2000
25
120
140
320
140
1800
26
100
120
280
120
1600
27
80
100
240
100
1400
28
60
80
200
80
1200
29
40
60
160
60
1000
30
20
40
120
40
800
31
1
20
80
20
600
32
1
1
40
1
400
33
1
1
1
1
200
34+
1
1
1
1
1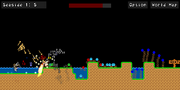 Drops
See also