This map shows the areas where Skulls are present.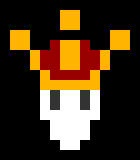 The Skull is an enemy head in Stick Ranger. The head is upside-down and egg-shaped, with two black rectangular eyes and no mouth. There are 41 enemies with the Skull head in Stick Ranger, though it is very rare after the Castle. The combined population of all enemies with the Skull head throughout the game thus far is 917.
A modified version of the Skull appeared for the Hell Castle Boss. The only difference is there is a crown on top of the head.
A slightly modified Skull head was introduced in Monster Box. It is an exact replication of the original skull except with an outline on the edges of the head.
Types of Skulls
Skull Snakes
Skull Bats
Skull Dragons
Skull Trees
Skull Fish
Skull Stickmen
Skull Zombies
Skull Spiders
Ad blocker interference detected!
Wikia is a free-to-use site that makes money from advertising. We have a modified experience for viewers using ad blockers

Wikia is not accessible if you've made further modifications. Remove the custom ad blocker rule(s) and the page will load as expected.