This is a list of the updates of Stick Ranger. Most of the text has been rephrased from the original announcements made.
There are currently 180 updates for Stick Ranger, making it the most updated game on Dan-Ball. However, since ver15.8, the Java version of Stick Ranger hasn't been updated as Java support is dropped like other web games.
Since ver18.9, released on March 17, 2017, the game hasn't been updated much, as the game itself appears completed.
Updates
Note:
↑ 1.0 1.1 1.2 1.3 1.4

The original blog is written in Japanese. A link to an automatic translation into English by Google is also available.

↑

In the JavaApplet version of Stick Ranger, this is the latest update.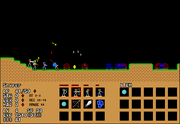 History
Two brown arches appeared in the world map in ver3.1 BETA, though they were inaccessible. The shape of the island on the top-left corner was also modified. Later, the arches were revealed in ver3.3 BETA to be the first set of Cavern stages.
When it was initiated in ver1.8 BETA, Grassland 4 jewels were named "Sapphire", "Ruby" and "Emerald" according to their colour. This caused confusion with the Grassland 3 jewels, hence it was changed in ver2.0 BETA to "Aquamarine", "Garnet" and "Peridot" respectively.
When the game was first created, only one player received SP when it leveled up - this was that character who killed the enemy that had enough experience points for the character to level up. The other players would then have to work harder to level up, as they had to work for all the experience needed to get to the next level.
Also when the game first came out, Boxers and Gladiators could attack in the air and while being pulled across the screen. This made them incredibly devastating, as it allowed for a powerful fighter to completely clear the map of all enemies within seconds. This was removed in ver1.4 BETA.
External links