World Cat Cup
is a
Dan-Ball
app game released in 4 June, 2010. It features the mobile Dan-Ball cats, like
Cat Shot
and
Rocats
. In the game, the player can choose any other country to compete with.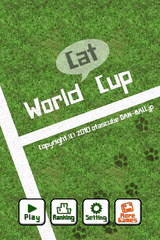 The Play
When the game starts, footballs will come out from both sides. Players have to touch the football when they reach the centre of the screen. Every touch is rated with "Perfect", "Great", "Good" or "Miss", depending on the location of the football. The closer to the centre, the better the rating. Consecutive non-missing touches will raise the combo number. Every time the combo reaches a multiple of 10, a bonus time will be awarded, in which 17 golden footballs will enter the field. Golden footballs always give a "Perfect" rating regardless of when it is touched.
International Rating
When players connect to the internet and complete a round, the score is used for calculation of the international rating. Countries which have far higher ratings than the local rating will have a multiplier higher than 1.0 and contries with far lower rankings will have multipliers lower than 1.0 (lowest 0.1). The local rating is increased by the multiple of the score and the multiplier while the rating of the chosen country is decreased by the same value.
Trivia
In the country selection screen, there is a country which has the Dan-Ball logo as the country flag and the abbreviated name "ZZ". It is currently unknown how this team appeared in the game.
History
World Cat Cup ver 1.8 - 20/4/12
World Cat Cup ver 1.7 - 3/2/12
World Cat Cup ver 1.6 - 27/5/11

Add sound effect for buttons. Title button changed to Home.

World Cat Cup ver 1.5 - 29/7/10
World Cat Cup ver 1.4 - 7/7/10
World Cat Cup ver 1.3 - 30/6/10

Sound ON/OFF button addition. Bug fix.

World Cat Cup ver 1.2 - 18/6/10

Online ranking addition. Scoring system changed.

World Cat Cup ver 1.1 - 9/6/10
World Cat Cup ver 1.0 - 3/6/10
External links
Ad blocker interference detected!
Wikia is a free-to-use site that makes money from advertising. We have a modified experience for viewers using ad blockers

Wikia is not accessible if you've made further modifications. Remove the custom ad blocker rule(s) and the page will load as expected.